Our very own Kimberly B talks about life on the road before joining Trinity.
On International Women's Day, Trinity Logistics would like to share a personal account of life on the road, as told by one of our Team Members who was previously an OTR driver. Ginger Rogers once said, "I do everything the man does, but backwards and in high heels."  As a woman who has chosen various roles in predominantly male-dominated professions, this quote always stuck with me.  She obviously wasn't talking about driving big trucks, but as many skilled women drivers can attest to, there is the added pressure that you put on yourself to strive to be a little better than your male counterparts.  Not because you feel you must compete with them, but because you feel that you must compete with the general perception and commonly held old-fashioned beliefs that women still have to prove themselves in the industry.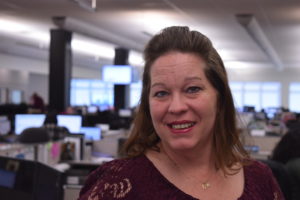 I would like to think that this has changed considerably since I graduated college in 2000 and decided to go to work with a major beverage company at an entry-level merchandising position in, what was at the time, a completely male work environment.  After enduring the various tests from the peers on my team, and with the support of a few great leaders, I quickly proved myself and was offered the opportunity to obtain my CDL license through on-the job training.  It was unheard of at the time, although it really wasn't that long ago.  This had not been part of my intended career path, but I thought it would be an exciting personal and professional challenge and a great "tool" to add to my arsenal.  To my knowledge, I was the only female soda-slinging driver that they had in the entire region.  I also found that once I had proven myself, the men with whom I worked quickly became some of my biggest advocates. I felt they treated me like the "little sister" of the team, defending me and helping me whenever I did occasionally find myself in a precarious position. The physical and mental challenge of learning and excelling in this trade, working independent of four walls, not constantly having someone looking over my shoulder, and earning the respect of the people with whom I worked made me feel confident and independent.  This decision later proved to open doors for me, offering advantages because it differentiated me in my future professional endeavors. I eventually advanced into a management position, but several years later, I found myself ready to move on. I decided that over-the-road (OTR) driving offered some opportunities and solutions that I found appealing. I spent some time driving on a team for a small local OTR company. It was both exciting and challenging in many ways.  Just like the experience of every other driver out there, there are long hours, days and weeks away from home, no home-cooked meals, public restrooms and truck-stop showers.  But for me at the time, the advantages far outweighed the drawbacks. It was a great financial opportunity and everyday was something new!  New towns, beautiful scenery, and a front-row seat to every state in the continental United States – something not many people get to experience in their lifetime.  I vividly remember the vast open skies of the Midwest, where you can see enormous storms blowing in from a hundred miles away; stopping the truck at 2 a.m. to "stretch" in the middle of the Arizona desert, so far away from the nearest exit that the absence of man-made light gave the illusion that you could just reach out and touch one of the many millions of stars that seem to hang just over your head; being chased by tornados driving up Tornado Alley (which I know for many would not be a positive, but it was definitely thrilling!); hundreds of miles of golden rolling wheat fields in South Dakota; and the magnificent snow-covered mountains of the North West. It was all more beautiful than I would ever have imagined. But there were drawbacks, mostly when you stepped out of the truck.  Particularly as a woman, you always must be cautious and aware of your surroundings.  It was very important to plan to make sure that you could schedule stops and breaks in familiar and preferred areas that offered lower risk of crime and undesired company. Showering in public showers was never fun, and often uncomfortable.  As a woman in a truck stop, trying to fuel up, take a break and get something to eat, I sometimes felt like I was being judged or looked at funny. At a truck stop one night in Atlanta, I specifically remember store personnel approaching to confront me about possibly trying to solicit "business'". I never went back there. You learned quickly that some places were better than others. It has been a few years now since I have been behind the wheel of Big Red Kenworth T660, driving cross-country every week, eating and bathing in truck stops, and falling asleep to the sway of a moving bunk every day, but I can still appreciate both the struggles and the joys of living on the "open road".  Now farther down the road in my career path, I have found myself still working in the industry, with Trinity Logistics.  From where I sit now, things seem to be changing, but there are still opportunities.  There is more of a focus on welcoming women into this industry, and through their Guiding Values and company culture, Trinity is setting a great example for other companies to follow. In 2018, Trinity was awarded the Women in Trucking organization's "Top 50 Companies for Women to Work for in Transportation".  I can attest that the Guiding Values, culture, programs and benefits reflect their commitment to women in the industry.  In an effort to honor women in the trucking industry, Trinity Logistics has implemented a "Woman Truck Driver of the Month" award. If you are or know a woman carrier who works with Trinity Logistics, we would love to extend our gratitude to you and invite you to contact us to share your story. Send your stories to
carrier.compliance@trinitylogistics.com
.